Free Seasonal Flu Spray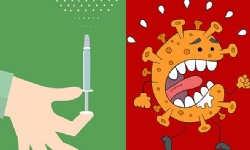 It is now time for your child's yearly flu nasal spray!
The free seasonal flu spray is offered to all young people in years 7, 8 & 9 at The South Wolds Academy on 5th January 2023.
Even if your child received this last year it is recommended, they have it again this year, or they won't be protected. With COVID-19 in circulation it is more important than ever to reduce the number of those becoming ill with flu this winter to help protect them and the NHS.
What do you need to do?
You must complete one online consent form for each of your children.
The consent link will close at 3pm the day before the session.
For more information on how to complete the consent form, please read through the first document below. To read about secondary school Flu immunisation in England, please click on the second link below.