South Wolds Summer Music Concert - 19th July 2021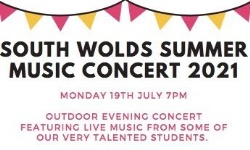 Here at South Wolds we are seeing out what has been a very turbulent and disruptive year to all with a musical celebration.
Featuring an array of talent from our students here at school, including piano prodigies, singing sensations, guitar greats and general musical maestros. We also bid farewell to some of our older students who are moving on to pastures new, so this is a last chance to see and hear their musical legacies which will hopefully inspire the next generation.
Please bring your own refreshments, picnic blankets, brollies and whatever else you think you might need for an evening of outdoor music on a summers eve in July.
Donations welcome, look forward to seeing you all.