Next Generation Design Workshop Success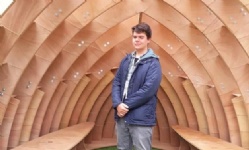 Our very talented Year 10 student Oliver has had an architectural design built and installed as part of the Nottingham Beach in the Market Square.
In July 2018, Oliver volunteered to join students from across the East Midlands for a workshop called Next Generation Design Workshop at Nottingham Trent University to work with the Scalerule, alongside the Nottingham based Arup and Leonard design firms. The two day workshop were a mix of short talks from professionals about architecture and engineering, and design workshops to allow the students to put what they've learnt into action.
In small teams they designed a pavilion to meet a real brief for a structure in the heart of Nottingham, with a given set of materials; creating concept sketches and models, detailed drawings and explaining how they'd build it.
At the end of the weekend the teams presented their designs to a panel of friendly architects and engineers from academia and industry. Oliver and his competitors were described as engaged and demonstrating some great ideas full of creativity, producing some fantastic pavilion designs to get the judges thinking.
-Mrs Hayden, Sociology and Personal Development Performance Leader, T & L Coach