Reading Group Activities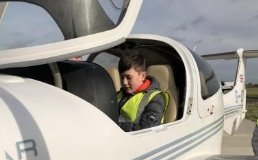 It has been a busy term for the reading group with more students than ever enjoying some of the 'top pic reads' from the club.
At the end of June, 12 students from year 7 and 8 visited Waterstones Bookstore in Nottingham. Waterstones are hosting around 10 events this July where various authors will be launching their new books in the Author Suite on the top floor of the building. The author visits can be found on the events calendar on their website..
Another group of students from the reading group visited Nottingham City Airport in Tollerton where they were shown around the airport and also climbed on board one of the club planes where they were given a briefing on 'How to fly a plane,' by one of the pilots.
During a tour of the airport hangar they were shown a BAC Jet Provost which was used in the Royal Air Force from 1955 to 1993. A member of the RAF showed the students the original bullet holes which were on the fuselage of this incredible aircraft and also where the machine guns were kept during the war. The Jet Provost is based at Tollerton and is widely used by a flying group for pleasure flights. One of the students commented, 'This has been one of the most interesting and informative events that I have ever attended and I definitely want to choose aviation as a career. Many thanks to James and his team at the Nottingham City Airport for hosting yet another fantastic event.
Towards the end of July some students from Warhammer Club and the reading group enjoyed a morning at Warhammer which has its global headquarters in Nottingham. They were treated to a tour of the spectacular events hall which hosts an array of miniatures and landscapes from Warhammer World and afterwards the group took part in an interactive workshop on 'How to play the game.' Most of the students said that they would definitely make a return visit and hopefully play in the school league next year.
Finally I would like to say a big thank you to our volunteers from The U3A, Parish Church and Sixth Form for giving up their time to support our young readers. I have had fantastic feedback from our reading group on how much they enjoy the encouragement and support our volunteers give to our students.
-Evelyn Welch, Teaching Assistant