Art, Design and Technology Show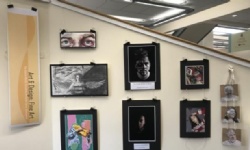 During the month of June The ADT Faculty held an exhibition of students work at the West Bridgford Library.
The exhibition was a celebration of the tremendous pool of talent that we have here at the Academy. It featured GCSE and A level work from students within Fine Art, Photography, Art Textiles, Graphic Communication and Product Design. We are very proud of the achievements of our students and were thrilled to be able to share this with the wider community.
The visitor book that was left at exhibition had some very complimentary comments written in it, which was really lovely to read. We know our students are amazing and it's nice to see that others share the same opinion.

-Mrs Brewer, Lead Teacher of Food and Textiles