Apprenticeships
What are Apprenticeships?
An Apprenticeship is a real job with training, which allows trainees to earn while they learn, as well as gaining a nationally recognised qualification.
Apprenticeships take between one and five years to complete and cover 1,500 job roles in a wide range of industries, from engineering to accountancy, public relations to veterinary nursing.
Apprenticeships are available up to degree level and above.
Find out more here: What is an apprenticeship?
What do the different levels mean?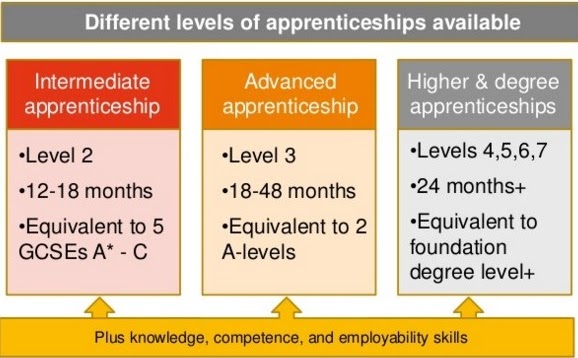 Which one is right for you?
Grades needed:
Intermediate: 3 x GCSEs (including maths and English) grade 3 or more
Advanced: 5 x GCSEs (including maths and English) grade 5 or more
Higher/degree: A-levels / BTEC
How do I find an apprenticeship?
There are lots of websites that help you find an apprenticeship. Here are links to some main ones:
Success at school Advice concerning apprenticeships for different employment sectors:
Graphic design
Healthcare
Nursing
Engineering
Social care
Environmental
Rail engineering
Journalism
Banking
Science
What are Degree Apprenticeships?