School Uniform
Uniform gives an identity to all academy students. We take great pride in the appearance of our students and in the co-operation of parents on this matter.
All students are expected to wear the correct uniform every day.
Students who arrive at school without the correct uniform, or with additional items will be asked why they are not in correct uniform and parents will be contacted. From there the possible outcomes are:
Student is sent home to change into correct uniform and returns to lessons.
Student will be lent spare uniform and returns to lessons.
Parent/carer brings in correct uniform and students returns to lessons.
As a last resort students may be kept in isolation until correct uniform is worn.
We do understand that, occasionally, there might be a reason why a student cannot wear a particular item of uniform for a short period of time. If this is the case parents/carers should contact the tutor to explain the problem and when it will be rectified.
It is vital that school and home work in partnership to keep students in lessons and learning. Please read carefully the uniform guidelines on the website to ensure that all uniform items purchased meet academy expectations.
Please name all uniform clearly, it is almost impossible to reunite lost items with their owners otherwise.
If you are unsure if an item meets the school uniform requirements please review the information below in the first instance. If you are still unsure please send a photo to the school office and ask for clarification before purchasing the item. The school's decision on the appropriateness of any item of uniform is final.
Where to buy
The academy's school uniform supplier is Big Fish Schoolwear. For students joining in year 7 they will be available at the intake evening in June to offer a sizing service.
The school office also keep a full range of samples in stock should you need to check sizing at any other time.
Orders can be placed via the Big Fish website.
To order:
School login details for access to your dedicated school page are:

Username: southwolds
Password: swa (all case sensitive).

Before you checkout please set up your OWN account with a username (your email) and password, to enable order completion.
Uniform expectations
Items marked with a * must be purchased from the nominated uniform supplier.
Item

School Expectation

Unacceptable

Blazer *

Academy branded blazer sold via Big Fish Schoolwear

Any other blazer

Shirt or Blouse

Students are able to choose between a collared shirt or revere collar blouse.

Shirt - plain white shirt with a collar.

Long or short sleeves.

Must be worn buttoned to the neck and tucked in.

Blouse – plain white with revere collar.

Long or short sleeves.

Can be worn untucked due to fitted nature of the garment.

Polo shirts

T-shirts

Patterned or coloured shirts worn visible under shirt

Tie *

Academy branded tie must be worn with a shirt.

Ties are not necessary when wearing a revere collar blouse.

Any tie other than the academy designated one

Jumper

Plain black V-neck knitted jumper may be worn over the shirt/blouse and under the blazer.

Any other jumper

Skirt * or Trousers

Students are able to choose between a black skirt or trousers.

Skirt – designated black pleated skirt sold by the Big Fish Schoolwear

Trousers – plain black school trousers

Any other skirt

Skirts rolled up at the waist

Skinny or tapered trousers

Jeans denim or stretch material

Cropped trousers

Any embellishment

Leggings, jeggings or tracksuit bottoms

Shorts - can only be worn during June & July each year.

Students may wear black or grey shorts instead of trousers or a skirt.

Plain black knee-length tailored school style shorts.

Any other shorts.

Shorts that are shorter than knee-length.

These shorts may not be worn for PE.

PE shorts may not be worn other than for PE lessons.

Shoes

Black footwear

Black trainers are acceptable but they must be fully black

Coloured areas or coloured logos

Boots

Open toes

Socks/tights

Tights – plain black, grey or natural colour

Socks - black or grey

Footless, patterned or coloured tights

Outerwear

Students may wear a plain coat with no large visible logos.

Denim jackets

Leather/suede jackets

Hooded or non-hooded sweatshirts
PE Kit
PE T-shirt *

Academy branded PE T-shirt sold via Big Fish Schoolwear

Any other T-shirt

PE Jumper

Students can choose between a branded sweatshirt from the uniform supplier or a plain version from an alternative retailer.

Please note the students are not permitted to wear PE sweatshirts under blazers.

Black round necked sweatshirt – either school branded or plain.

Any visible logos other than the academy logo

Any non-black jumper

Any non-round necked jumper

Bottoms

Students may choose from a range of bottoms.

Black shorts

Black sports leggings

Black tracksuit bottoms

No visible patterns other than a small logo

Any non-black items

Trainers

Trainers with laces and non-marking soles.

Suitable for outdoor PE

Unsuitable or unsafe footwear

Socks

Black or white sports socks

Ankle or knee-length

Tights
Optional Items
It is recommended that students have a mouth guard, football boots and shin pads.
Please note that students taking part in extracurricular football, hockey or rugby must have the appropriate safety equipment as well as black, knee-length, sports socks.
Jewellery, make-up and hair
Students may wear limited jewellery consisting of a watch, 1 small stud earring in each ear and 1 flat ring. Any jewellery in excess of this will be confiscated.
Facial piercings are not permitted, students will be asked to remove any such items.
Students may wear natural looking makeup. Please note that excessive makeup, false eyelashes and painted or false nails are not permitted. Fingernails should be of a suitable length for school.
Hair must not be an unnatural colour or unconventional style. Cuts under grade 2 are not allowed, neither are patterns nor designs that are cut into the hair.
Pre-loved uniform – Uniformerly
Uniformerly is an online marketplace that allows you to buy, sell or give away second-hand school uniform and school related items to other parents within the school. We hope by using Uniformerly, that you can recycle your children's old school uniform, helping to save you money, whilst helping other parents to cut the cost of buying school uniform.
It is completely FREE to use, with no listing fees and no hidden extras.
For more information check out their website www.uniformerly.co.uk
Please note all correspondence and payment is undertaken between the seller and the buyer. The South Wolds Academy and Sixth Form will not be involved in any of the selling and buying process.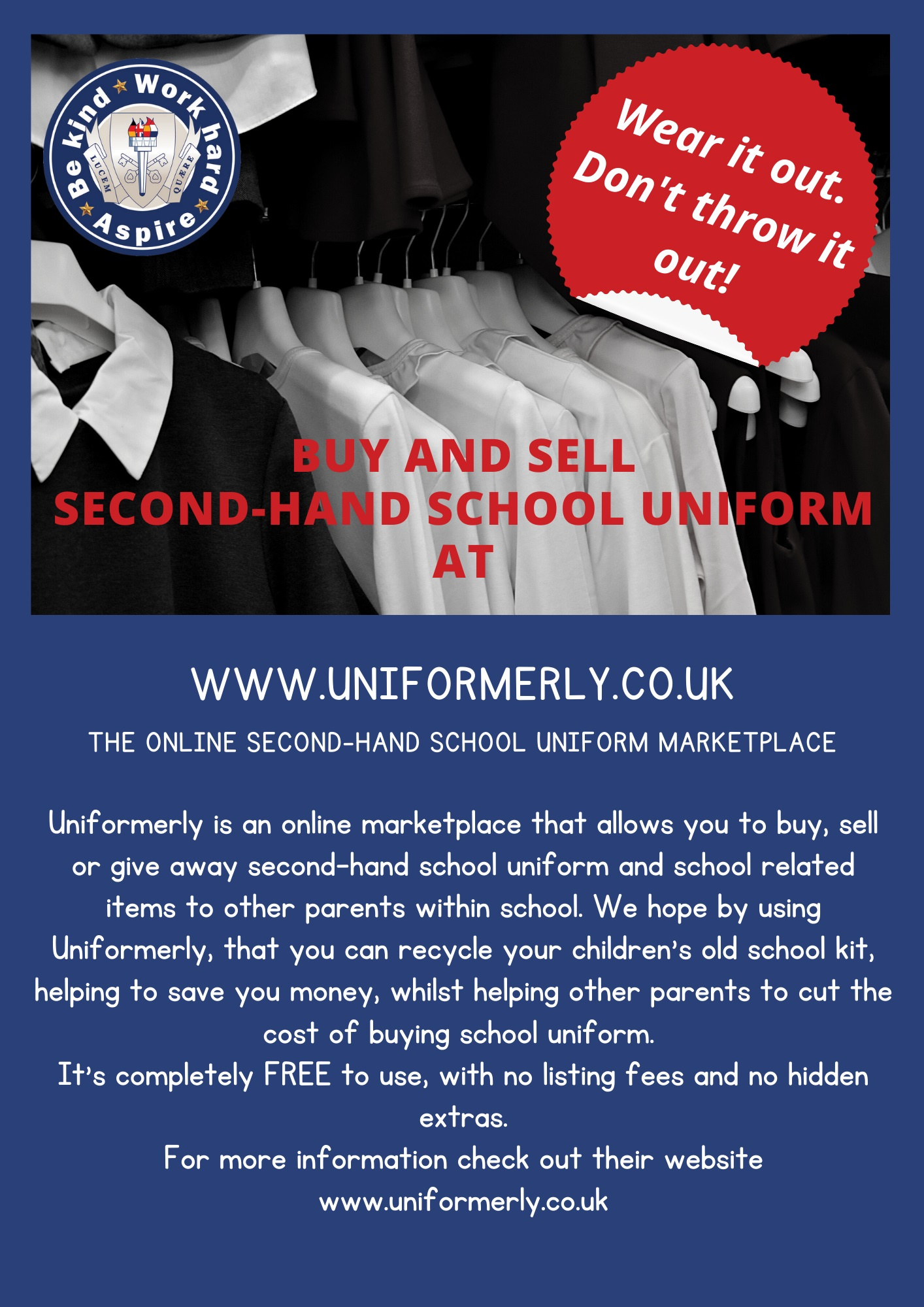 Guidance on suitable items
Shoes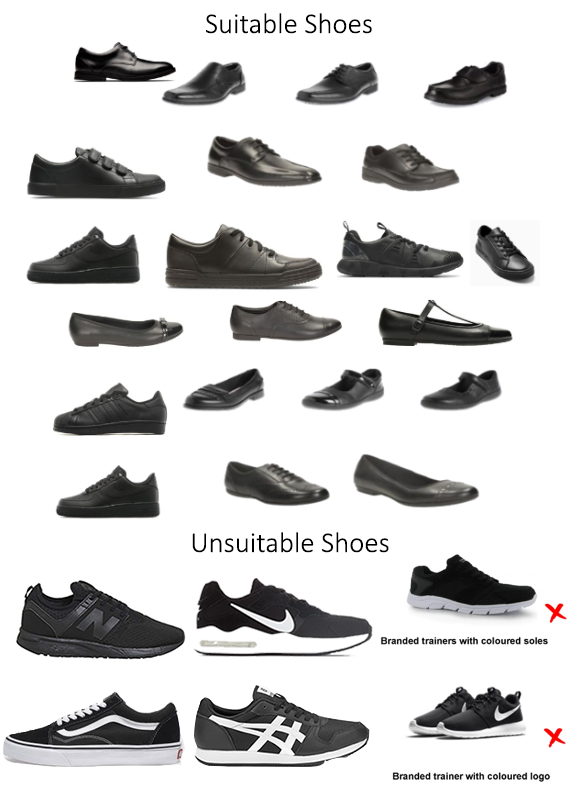 Skirt

Trousers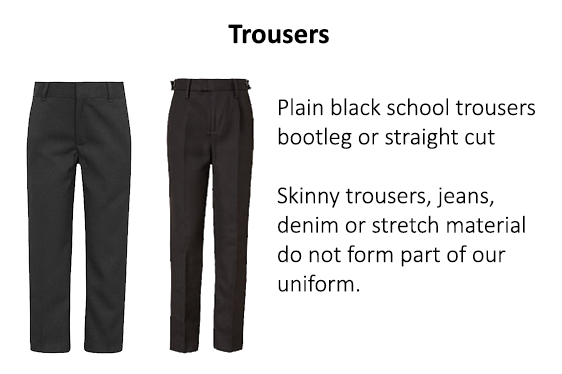 Shorts